Let us explore the astrological patterns and themes that will shape the month of June 2023. As we enter the Gemini season, characterised by flexibility and intense communication energy, we will delve into the underlying theme of examining leadership models.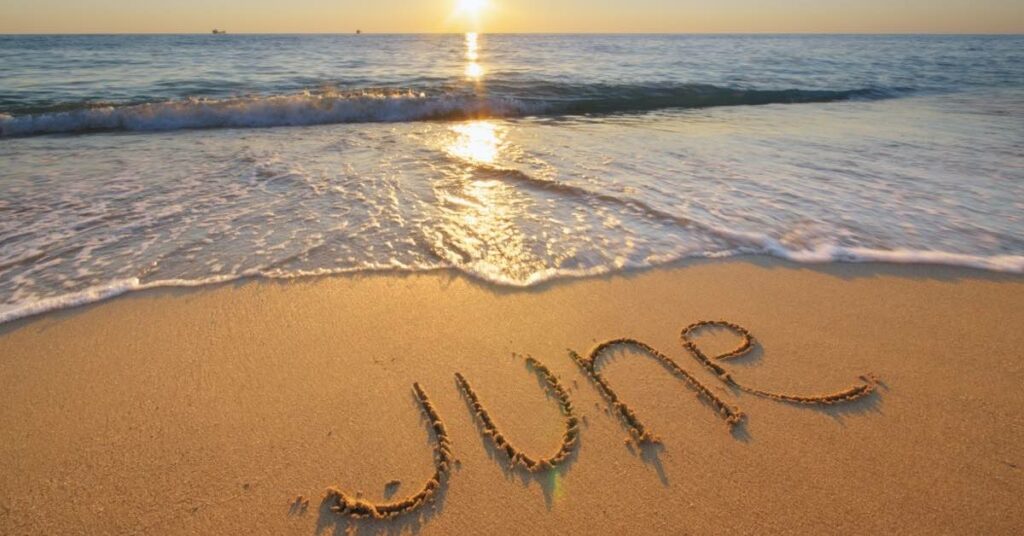 Throughout the month, we will witness significant planetary movements and alignments that will provide personal growth and transformation opportunities. Let us explore the key astrological events and their implications for June.
The Full Moon in Sagittarius
On June 3rd, the month begins with the Full Moon in Sagittarius, a fire sign known for its action-oriented energy. This Full Moon encourages us to move our bodies, seek sunshine, and channel our energy into constructive endeavours.
The astrological chart for this Full Moon reveals a powerful T-square configuration involving the Sun, Moon, and Saturn in Pisces. This alignment signifies the need for adjustments and urges us to manifest our ideas with flow, faith, and compassion.
It calls for deep thinking, analysis, effective communication, and decisive action imbued with a sense of surrender to the divine forces at work.
Venus in Leo
Shortly after the Full Moon, on June 5th, Venus enters Leo, setting the stage for an extended transit that lasts until October 8th. This Venus transit is significant as it occurs only once every two years.
Venus in Leo brings a prolonged period of harmony, peace, and love. It encourages us to embrace our inner beauty, radiate confidence, and lead with our hearts. The energy of this transit is incredibly potent for those with planets in Leo between 12 and 28 degrees.
Still, it also offers blessings and opportunities for everyone to connect with grace, beauty, and self-assured leadership.
Mercury in Gemini and Pluto Retrograde
On June 11th, Mercury enters Gemini, amplifying this placement's chatty and intellectual energies. It is a favourable time for clear communication, making deals, and engaging in negotiations.
However, simultaneously, Pluto re-enters Capricorn, retracing its steps to the anaretic degree in Capricorn. This movement signifies the need for transformative changes in power structures and systems.
While this may be uncomfortable for some, it offers an opportunity for individuals and organisations to reassess their relationship with power, infuse love into their actions, and navigate these changes with a sense of empowerment and lovingness.
Saturn Retrograde in Pisces
On June 17th, Saturn begins its retrograde phase in Pisces, inviting us to internalise the lessons of divine connection, intuition, and flow.
This retrograde period is particularly significant for those with planets between zero and seven degrees of Pisces, offering an opportunity to integrate these qualities profoundly.
It is a time to prioritise mindful breathing and embrace the compassionate and interconnected nature of the universe.
New Moon in Gemini
On June 18th, a New Moon occurs in Gemini, often called the "affirmation Moon."
This lunar phase encourages us to examine our beliefs, be mindful of our words, and align our thoughts and intentions with our highest aspirations.
It is a potent time for setting intentions and affirming our desires for personal growth and transformation.
Mercury in Cancer and Mars Square Uranus
Towards the end of the month, on June 26th, Mercury enters Cancer, following the summer solstice when the Sun moves into Cancer. This period from June 21st to June 26th brings important news and revelations.
It is a time when important events may come into the public eye and demand attention. Additionally, on June 26th, Mars forms a square aspect with Uranus, generating high-voltage energy.
While this aspect can be unpredictable, it also carries the potential for exciting and spontaneous opportunities. Embracing an adventurous attitude and being prepared to adapt and pivot with confidence can lead to positive outcomes during this time.
June 2023 Astrology Forecast Video with Kathy Rose
June 2023 brings astrological patterns centred around examining leadership models, distinguishing between ego and selflessness, and connecting with inner power.
The Gemini season emphasises flexibility in thinking and strong communication. The full moon in Sagittarius calls for action to manifest ideas with flow and faith.
Venus entering Leo heralds a prolonged period of harmony, peace, and love, radiating confidence and inner beauty.
Pluto retrograding into Capricorn signifies a need for adjusting power issues and hierarchical systems.
Mercury in Gemini enhances clear thinking and communication, while Saturn's retrograde in Pisces allows for the internalisation of divine connection.
The new moon in Gemini invites self-reflection and mindful expression. Mars square Uranus on June 26th brings high voltage energy and unexpected opportunities for adventure.
Activate the heart chakra, lead with love and confidence, and embrace the power of June's transformative energies.
Final Thoughts
As we navigate the astrological patterns of June 2023, activating the heart chakra and operating with love, confidence, and harmony is crucial.
By radiating our inner beauty and embracing our sense of empowerment, we can positively impact the world around us. Let us fill our thoughts, words, and actions with lovingness, compassion, and leadership.
This month offers us a unique opportunity to integrate confidence, flow, and grace into our lives. Embrace the blessings of Venus in Leo and allow your heart to guide you on this transformative journey.